British Dressage Combined Training Championships, sponsored by Ideal Saddles
May, 2020
This year saw us return for the third consecutive year as sponsor of the British Dressage Ideal Saddles Combined Training Series and what a fantastic series it was! We returned once again to Field House Equestrian Centre in Staffordshire for the Championships, with a final of outstanding quality in both the dressage and jumping arena taking place on the 15th of March 2020.
Ideal Saddles Prelim 2/70cm
An exceptional dressage score of 76.90% and a faultless jumping round gave competitive amateur Sarah Thomas and Davidoff 84 (pictured above) a runaway victory in the Prelim 2/70cm Championship.
Sarah, who fits riding and training around her busy role as payroll manager for a large, soft fruit company in the South East said, "I'm absolutely delighted. I went to Field House with no expectations. I just wanted to ride it well and for Davidoff to settle as he can be nervous at stay away shows, so to win was like a dream come true."
"Davidoff thrives on work and variety and I know him like the back of my hand, but he's not been easy," said Sarah who credits Kimberley Alice Seaby and her yard manager Nicola Greenwood for helping with their progress. "Kimberley has really pushed me and she's so good with the trickier horses, and Nicola has helped hugely with my jumping."
Davidoff, now 17, was bought by Sarah as a just-backed four year old and in their time together the pair have also evented and competed Riding Club. "Over the years we've been up and down the country competing, attending clinics, and he hacks a lot too.
"He's a well-bred, sharp horse, and I have to be riding 110%, but I can honestly say he's my once-in-a-lifetime horse as he's taught me so much," she said of the athletic, chestnut Don Bosco x Cordoba gelding.
"I have to thank Ideal Saddles and BD for putting on the Combined Training Championships. It's been a winter of hard work keeping him (Davidoff) up and running – I like to keep him lean and eventing fit – so it's fantastic to have the series to aim for and has really helped to keep me motivated.
"It was a beautifully built course at Field House. The lines were good, the angles were good and you really had to utilise your space. It was a very good jumping test."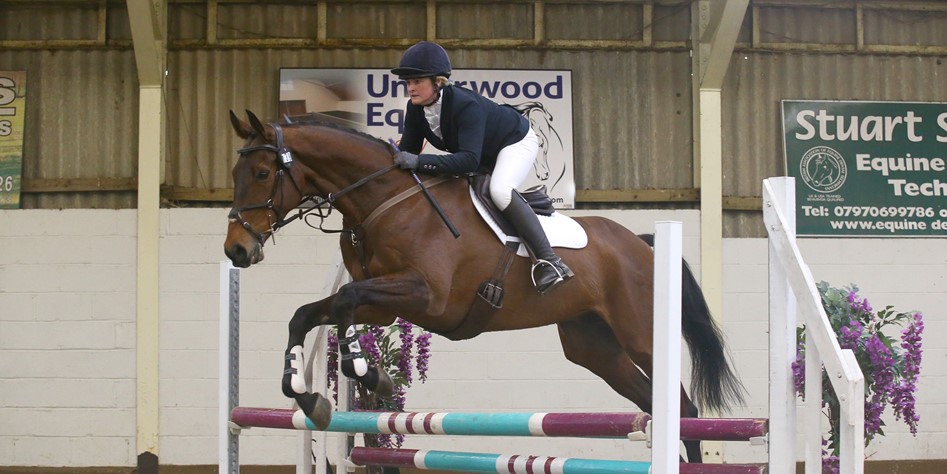 ​Ideal Saddles Prelim 18/80cm
A mere eleven months after his last run, former racehorse Pop the Champers (pictured above), ridden by Kathryn Pickering, headed the Prelim 18/80cm class. The nine year old bay, who first went down the centre line last July, already has an impressive track record at Prelim – a trend continued at Field House with a mark of 72.69% followed by a tidy clear round.
"I was absolutely thrilled with him," said Kathryn, who runs an event, dressage and livery yard from her Lincolnshire base, and who became acquainted with Wendy Wesley's gelding when he was in training with Nick Kent in Brigg.
"I ride out a couple of times a week for Nick so I'd ridden Pops there," explained Kathryn. "He wasn't a very successful racehorse and when the time came for him to retire they asked if I'd have him for a while for retraining. This was with a view to finding him a new home, though Wendy has since decided to keep him as she's had so much fun with him this past year."
Although bred for the track, the adaptable gelding shows all the qualities of a useful competition horse. "I used to ride him up the gallops and he was as lovely to ride then as he is now," says Kathryn. "He used to trot round the gallops in an outline, and the day he arrived at mine he trotted around in an outline – he's just built like that. He's very intelligent, he's scopey, he's careful, he's brave. I'd like to event him but as he's so good at dressage we'll work our way through the dressage ranks too. Although he is a bit unique, he's a great advert for the Thoroughbred.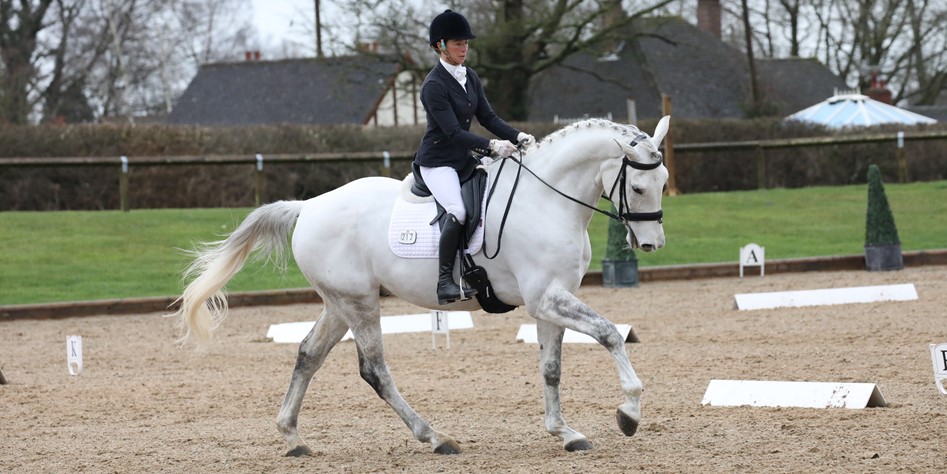 Ideal Saddles Novice 24/90cm
Victoria Gregg and Langson Governor (pictured above) were the outstanding winners with a 74.13% dressage and a clear round for a class total of 170.5. Langson Governor (Carduc x Hamilton III) is a nine year old 17.2hh British sport horse gelding; Victoria runs a training and livery yard from her Cheltenham base. She also contested the Elementary 42/90cm with her 15 year old bay gelding, Rock Supreme.
"Safe to say the boys were awesome!" said a delighted Victoria on Facebook. "Gov smashed 74% and clear in the Novice 24/ 90cm to take the championship by a mile. Rocky was on great form for a 70% and clear in the Elementary 42/90cm finishing third. Gov was a tad exhausted in his second class and, although foot perfect, lacked the sparkle for a top spot and finished fifth with a very respectable 71% and clear. A long but great day, they don't happen very often and after a long, wet winter it reminds us why we work so hard!"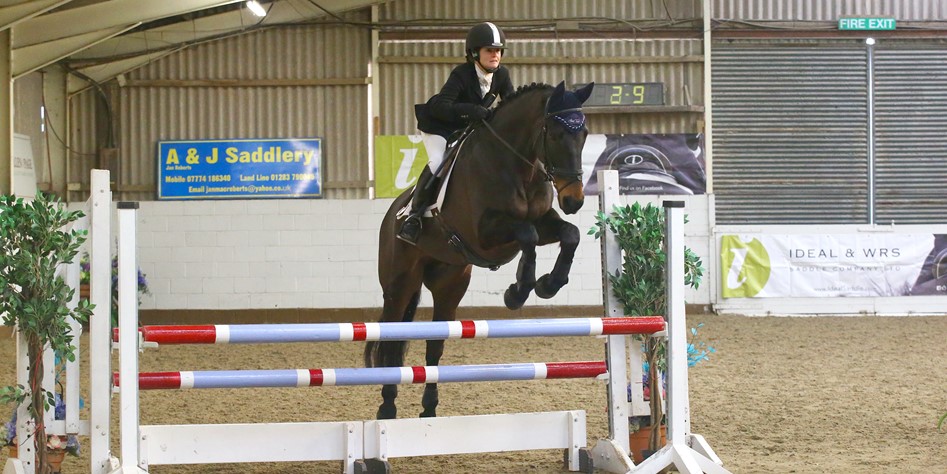 Ideal Saddles Novice 34/100cm
Joanne Brett earned an outstanding mark of 76.90% and a clear jumping round with her homebred gelding North Astor Cooter (pictured above), giving the Buckinghamshire combination victory ahead of Sally Crane and Cortynan Girl who also impressed for a 75% dressage. Joanne also earned another podium place with third in the Elementary 50/1m aboard North Astor Rosscoe.
"It was such a good day," said Joanne who works as a freelance rider and instructor, and is the showjumping coach at her local Riding Club. "It was great to have qualified both horses, but for it to come together on the day and have both do well at the final was amazing."
North Aster Cooter (Nigrasine x Balda Beau) started under saddle in his fifth year and has enjoyed a varied career including hunting, eventing to Novice level and showjumping up to Discovery. "We went into dressage to improve our dressage scores for eventing and have just got more involved since. We took part in the Petplan Equine Area Festival series last year and I feel that he's still developing with a lot more to come.
"He's a lovely horse," she added. "He's suspicious by nature but once you get to know him, and he gets to know you, he really tries for you. The championships was our last competition before the lockdown so I'm so glad to finish that way."
The day before the competition, Joanne stayed with Jeanette Brakewell who's based a short distance from the venue. "Jeanette gave me a lesson on both the horses the day before, which helped hugely."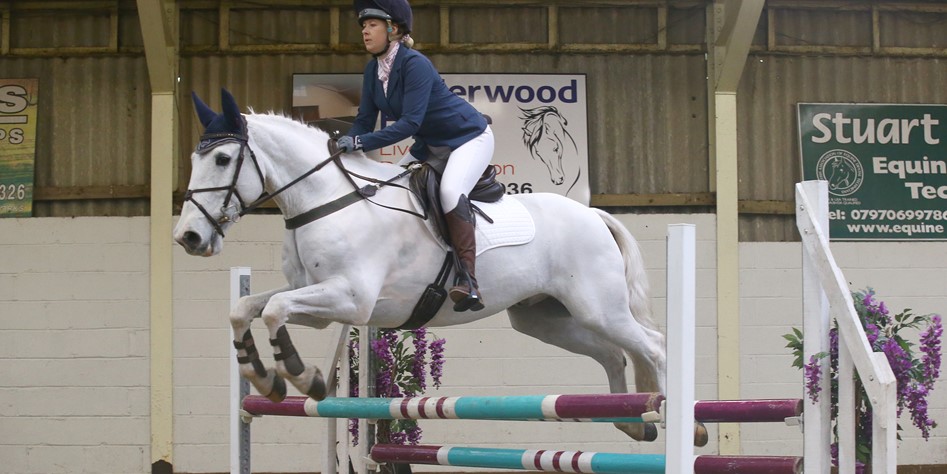 Ideal Saddles Elementary 42/90cm
A super, clear jumping round sealed victory in the Elementary 42/90cm Championship for Emma Sutton and her 15 year old grey gelding Coltstown Glider (by Seabanks Blue Glider) – pictured above. After dressage, they lay second with 72.03% behind Emily Watts and Rascalini, her black 14 year old son of Rascalino, who posted just shy of 74%. However, a couple of fences down proved costly for the challengers.
"I couldn't be prouder of my little horse at the Ideal Saddles Combined Training Championships," said Emma on Facebook. "Lots of lovely prizes thanks to The Ideal Saddle Company. Elementary 90cm Champion. Elementary 100cm fourth place!"
The pair, who hail who from the Vale of Glamorgan, were placed third in last year's Badminton Mitsubishi Motors Cup. Emma combines her riding with working full time in the planning and programming department at St David's Hall in Cardiff, the national concert hall of Wales.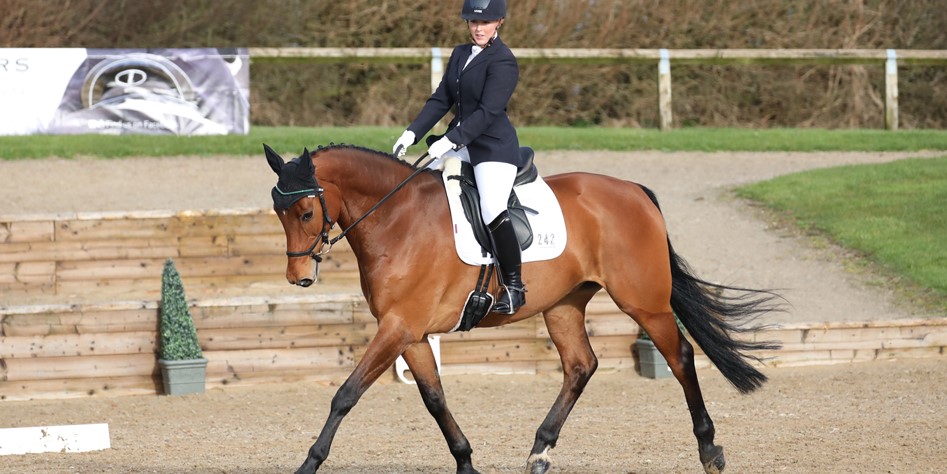 Ideal Saddles Elementary 50/100cm
The Elementary 50/100cm title was down to the wire with the top four all within touch after the dressage, and all achieving a clear round, but Derbyshire event rider Georgie Rockingham (24) and her 11 year old gelding September Song's dressage of 70.54% gave them the winning edge.
"Absolutely thrilled to have won the Elementary 50 1m Ideal Saddles Combined Training final and finished third in the novice. This has been a brilliant series. Huge thanks to Ideal Saddles for their very generous sponsorship, to Field House Equestrian for running the event so brilliantly and last but not least to Ruth Edge for her help on the flat. Extra polos for Super Scoopy!"
Congratulations to all our worthy winners and thank you all for the fantastic feedback. We are glad everyone had such a wonderful day and that we got the chance to talk to so many of you about your horse's saddles and their impact upon horse & rider performance and to show you some of our most popular models on the day.
Thanks to the teams at Field Horse Equestrian and British Dressage for organising another wonderful Championships and a special well done going to our six champions from all at The Ideal Saddle Company.
Top tens (Dressage score : SJ faults : Total)
Prelim 2/70cm Championship
Sarah Thomas and Davidoff 84 (76.90% : 0 : 223)
Southerly Roberts and William (73.62% : 4 : 209.5)
Danielle Rhodes and Millfield Lancelot (73.28% : 4 : 208.5)
Lucinda Huzzey and Mick (71.38% : 0 : 207)
Alys Matravers and Fancy Pants (71.38% : 0 : 207)
Christine Daniels and Darbey Ramblin (70.00% : 0 : 203)
Claire Hazeldine and Taking the Biscuit (69.00% : 0 : 200.5)
Jill Tees and Marcona (68.62% : 0 : 199)
Kathryn Taylor and Adjudant (67.59% : 0 : 196)
Jenny Gray-Wallis and Ferryman (66.90% : 0 : 194)
Prelim 18/80cm Championship
Kathryn Pickering and Pop the Champers (72.69% : 0 : 189)
Danielle Rhodes and Millfield Lancelot (72.69% : 4 : 189)
Bex Slade and I Duno (71.35% : 4 : 181.5)
Sarah Thomas and Davidoff 84 (69.23% : 0 : 180)
Emma Moore and U2 (68.85% : 0 : 179)
Kathryn Taylor and Adjudant (68.85% : 0 : 179)
Victoria Leese and Sheridon (68.46% : 0 : 178)
Katie Brown and Lucky for Some Unlucky for Others (69.23% : 4 : 176)
Kirsten Good and Honalulu (69.04% : 4 : 175.5)
Katie Walpole and Hall Kelly (67.12% : 0 : 174.5)
Novice 24/90cm Championship
Victoria Gregg and Langson Governor (74.13% : 0 : 170.5)
Southerly Roberts and Just Like That (69.57% : 0 : 160)
Kate Sanderson and Hillgarth Rachelian (69.13% : 0 : 159)
Georgia Cathcart and Arleys Toyboy (68.04% : 0 : 156.5)
Southerly Roberts and Tinx (67.83% : 0 : 156)
Ellis Morton and Elsinore ELS (67.39% : 0 : 155)
Wendy Hoggard and Barton Blount (66.74% : 0 : 153.5)
Emma Rarity and Uppergraig Black Flyer (68.04% : 4 : 152.5)
Kate McCormack and World Horse Welfare Harry Potter (67.83% : 4 : 152)
Ingrid Dziedzic and Mister Bee Brown (66.09% : 0 : 152)
Novice 34/100cm Championship
Joanne Brett and North Astor Cooter (76.90% : 0 : 161.5)
Sally Crane and Cortynan Girl (75.00% : 0 : 157.5)
Georgie Rockingham and September Song (73.33% : 0 : 154)
Sarah Evans and Watermolen Winston (71.67% : 0 : 150.5)
Victoria Gregg and Langson Governor (71.43% : 0 : 150)
Georgia Cathcart and Arleys Toyboy (73.10% : 4 : 149.5)
Lucy Watson and Rafiki Yango (69.76% : 0 : 146.5)
Caroline Rios and Castell King (67.14% : 0 : 141)
Rebecca Brady and Hawallie VDL (66.90% : 0 : 140.5)
Southerly Roberts and Tinx (67.38% : 4 : 137.5)
Elementary 42/90cm Championship
Emma Sutton and Coltstown Glider (72.03% : 0 : 230.5)
Emily Watts and Rascalini (73.91% : 8 : 228.5)
Victoria Gregg and Rock Supreme (70.94% : 0 : 227)
Danielle Rhodes and Tiger Tim (73.44% : 12 : 223)
Amy Small and Triumph VD Laarseheide Z (69.53% : 0 : 222.5)
Laura Walkden and Cointreau WV (67.97% : 0 : 217.5)
Gracie Catling and Dalyhill Rocker (67.34% : 0 : 215.5)
Kathryn Pickering and Alimarr (67.50% : 4 : 212)
Winfied Wittebol and Richardo's PJ (66.25% : 0 : 212)
Steph Robson and Roundhills Super Zalaman (66.09% : 0 : 211.5)
Elementary 50/100cm Championship
Georgie Rockingham and September Song (70.54% : 0 : 197.5)
Sallyann Burns and After Darkness (70.00% : 0 : 196)
Joanne Brett and North Astor Rossco (69.11% : 0 : 193.5)
Emma Sutton and Coltsdown Glider (68.93% : 0 : 193)
Alison Unwin and Rongai (65.54% : 0 : 183.5)
Amy Small and Triumph VD Laarseheide Z (65.18% : 0 : 182.5)
Rebecca Brady and Hawallie VDL (66.07% : 4 : 181)
Amy Thomson and Garadice Man (65.54% : 4 : 179.5)
Rebecca Kilby and Gaby II (63.39% : 0 : 177.5)
Gemma Webster and Tullibards Bennysdelight (64.64% : 4 : 177)
Photos © EmmPix