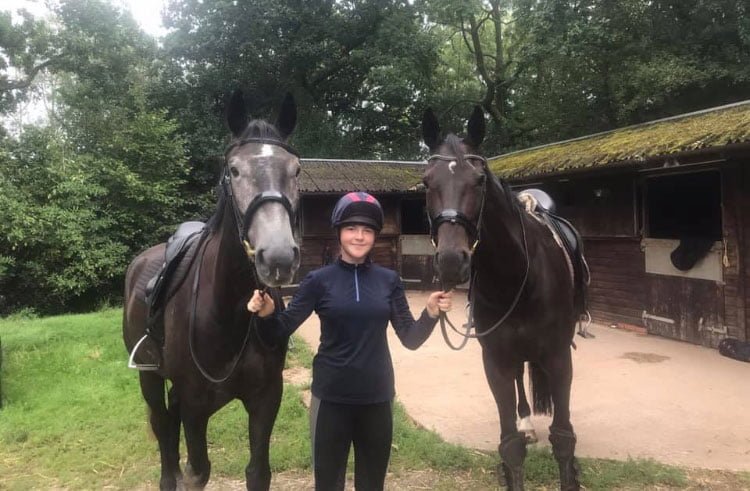 Sophia Marston
We've supported the young talent that is Sophia Marston for a number of years now and are so enjoying watching her progress as a rider. She exudes enthusiasm and has a genuine love of both her horses and of competing, together with a desire to progress and do things right!
Sophie tells us more about her and her team of up and coming horses…
Solly , Rodders and me, Sophia Marston
Hello, I am Sophia Marston 14 years old and based in the West Midlands, I have been riding since I was 3 years old when I got my first pony Dimple Dot, who was a cheeky Welsh A who I adored and who introduced me to Pony Club and some little one day events. I used to tuck behind my mum and try and get Dimple to canter up the hills, so it felt like I was racing.
Since then I have got better with my steering, but I still love the enjoyment of cantering up the hills, especially after being stuck in a classroom all day. I am now very lucky to have two young horses as sadly my pony days are over as I resemble a 'daddy long legs', these are:
Solitaire (Solly), who is a 7 year mare approximately 16.2 by San Armour. My nana purchased her as a yearling and she is my best friend and has made me realise the importance of flatwork and now that it gives me that same adrenalin rush as I get from jumping. She makes me feel special as she dances, always tries her best and is elegant. I feel just as good as the Olympic riders and she makes me smile every time I ride her.
Rodders has a show name which is about 20,000 words long! He is a 4 year old gelding, approx. 17 hands who has just started competing in eventing and is a brave as a lion. He was purchased as a 2 year old and is just 'cool', he is relaxed, fun and fully suits his name as Rodney or Rodders.
My support
I have been very lucky to have the Ideal Saddle Company not only support my horses but also the physical development of me as a rider. I really struggled with my length of leg and the strength I required, especially for Rodders. I found that with my length of leg I never fitted into a saddle or the seat was so gigantic I was lost in it. I also find due to the horse's being wide I suffered from lower back pain as I felt that my legs were being pulled to the side. I am very lucky to have had the master saddler from Ideal visit my yard so we can discuss 'me' and the alterations in my horses, as being so young they have changed massively. I struggle with sometimes explaining what I feel when I ride, but Mel the saddler works alongside me and has dramatically improved my performance and also the comfort of my horses and me.
My family
Competing horses has a massive impact on my family, but I could not do it without the help and support off all of them. They are my biggest fan club, the groom, the driver, the poo picker and the bank. I am extremely privileged to have everyone running around with and after me.
Highlights
2019, Winning the Petplan Regionals Elementary under 21 for the BD Winter Nationals.
2019, Winning the FEI COH Sheepgate under 25 Finals.
2019, Winning the Home International FEI COH and Novice Finals.
2019, Winning the BD Prel Petplan Finals under 21 at the BE Winter Championships and reserve champion in the BD Prel Finals.
2019, Being selected for the BD foundation academy
2019, Qualifying for Pony Club and Riding Club Dressage Championships
2019, Reserve champion at the Ideal Saddles Combined Training Finals.
2019, Being selected for GB Children on Horses team
2019, My last year on my amazing pony where I did the CCI** Brand Hall BE Pony Trial championship.
2019, Rodders went double clear in arena eventing and came 3rd in the walk & trot test.
I wish you all the success and I feel at any age and stage in life we all need a moto to inspire ourselves, so here is the one I like to think about:
"A dream you dream alone is only a dream. A dream you dream together is reality"
Sophia