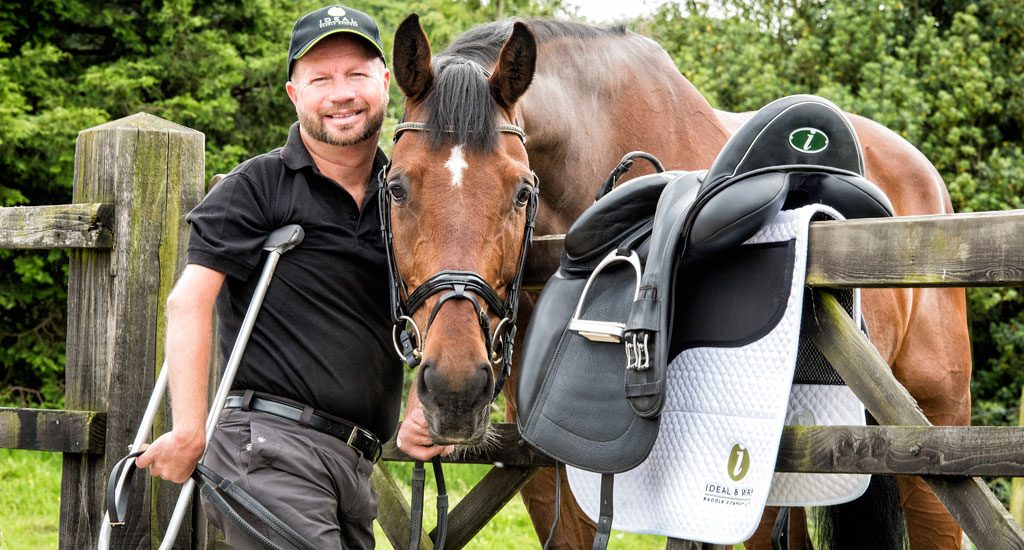 Sir Lee Pearson
Sir Lee Pearson CBE is an 11-times paralympic games gold medallist, having represented British para-equestrianism in Sydney, Athens, Beijing London and Rio. Over the course of his career he has won 30 gold medals at European, World and Paralympic level, so you could say he knows a thing or two about dressage.
Lee spent most of 2017 having a break from the sport while trying to get permission to build his own arena at home, but he's back and is aiming for Tokyo 2020 and his stunning partner Styletta is the naming inspiration behind our Styletta Dressage Saddle.
Lee tells us more about his current team and his plans for the future…
"2019 has been a year of ups and downs, and I don't mean rising trot! Zion is in his 15th year and he was feeling a little old through the selection process at the start of the year so I did not qualify him for the European Championships held this year in Rotterdam. Things went from bad to worse for my little partner in crime who I adore, as he actually got kicked in the field and broke his leg! As shocking as that sounds, once I got him to the Nantwich Vets Veterinary centre and Campbell Thompson got all excess bone removed, they then kept him comfortable and pampered for three weeks whilst everything was healing. He is now back in walk exercise with a very positive prognosis. He will miss the winter qualifiers, which are a small part of selection for Tokyo 2020 but I hope the selectors will be understanding of the situation and he will be fit and ready to campaign Internationals abroad next spring.
Styletta is firing on all cylinders and I've decided that her cylinders are a little bit too powerful for the para classes so I've been advancing her training and I'm so proud to say that we've been out and done our first Prix St George! It was not mistake free and we have lots of areas to improve, but I was so proud of her and also myself, because it's been about 10 years since my top hat and tails came out of the cupboard…yes the buttons were readjusted ever so slightly!
I spent this year introducing Breezer to para internationals and although the scores have been inconsistent everybody around is quite excited for his future. so I'm delighted to say that he is the horse that I will seriously be campaigning towards selection for Tokyo. He has a massive walk and a really active, powerful trot, he now just needs to learn that the white dressage boards aren't going to eat him and start getting used to a bigger environment. In helping to get him used to the crowds I'm taking him to Your Horse live on the 8th of November, if anybody would like to come and see him in action.
As autumn is here and winter fastly approaching, my horses will start to be stabled more regularly as for the summer I like them to live out and be as natural as possible. Feeds will be adjusted appropriately, saddles will be remeasured and adjusted accordingly and the thermals will be rooted out!"